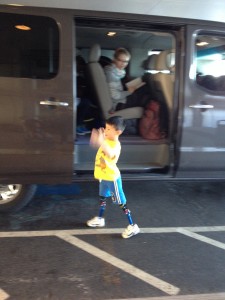 What you can't hear is Samuel saying, "I like walking!"  You also can't hear the most wonderful clicking noise as his new knees activate with nearly every single step. You also can't hear the missing squeak-thud of his crutches with each movement. Honestly such a surprise! We thought he'd just be getting a refit!
Oh yeah. And we drove up to Cannon Beach for lunch at Mo's and to play on the misty, warm, soft sand.
Suddenly the appointment seems a bit more significant.  🙂
Now we wait in bumper to bumper traffic. We need to drive back over to Red Robins so we can pick up a credit card we left behind. I think we'll be ready for supper once we get there.