Here we are again.  Surgery time for Garnet.
He was scheduled for this one back in October but it was cancelled due to his catching a cold.
I've almost  hesitated to post anything at all about it for fear hope it would be cancelled yet again.
You see, I'm chicken.  
B-GAWWWWWK!
Yep.  I hate all of the poking and prodding and procedures that my kids have to go through.  But I think I may have mentioned that a time or two.  Let's just say that I don't go into these things lightly for any of them.
Oh my heart!
Tonight I'll simply post some photos of him on his Bone Graft Surgery Eve.  They tell so much about Garnet right now.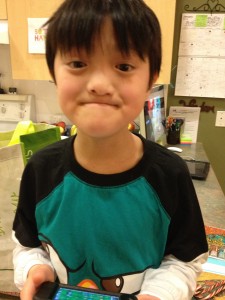 I think he's adorable with his long shaggy hair and tired eyes.  Dad took him out late to get a "last supper" of McDonald's before he is restricted to a soft diet for the next while.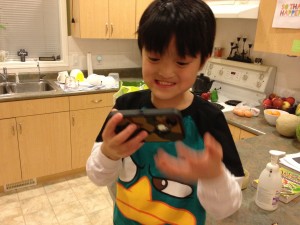 Dad let him play with his iPhone too.  What's not to love about being the patient?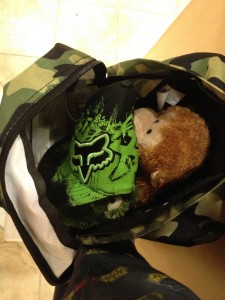 This is the one that made our hearts melt.
He packed his own bag for the hospital.
(Don't worry, we tucked some clothes in another bag – but hey, who needs clean clothes, right?!)
Included in the bag was:
1. His stuffed monkey that we bought for him while we waited to travel to meet him.
2. His "Froggy" that James gave him.
3. His beloved hat that was passed down to him from his cousin Lane.
4. His Illusion-ology book about Magic.
5. His Pokemon guidebook.
6. His Outdoors guidebook that his Dad reads to him nightly when he is home.
And last, but not least…
7. Every possible electronic device he could get his hands on, including chargers and extra game cartridges.
That's our Garnet in a nutshell!
He's so delighted that he gets some time off school and smoothies for breakfast, lunch and dinner!
He's obviously going to feel bit different tomorrow, but he's a pretty upbeat guy and I know he'll get through this  alright.  The one regret he has is the fact that he won't be able to make those "oh so popular with the young boys" noises through the hole in his gum line anymore.
(Don't tell him, but I might just miss that a little bit too!)
It's all just so Garnet!