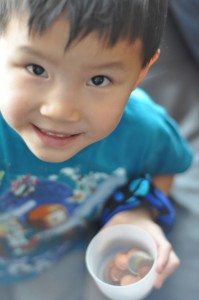 Today, February 4th, 2013, was the final day of production for the Canadian Penny!
Take a look at what Metro News had to say in eulogy of our little treasure.
Samuel celebrated, as he does every day, by walking the length of our living room picking up pennies from one container and depositing them into another container.  This is Stephen's genius invention to encourage longer and longer periods of walking in his prosthetics.
Just think of all the ways those little copper gems have been used in generations of parenting!
We'll miss you little penny.  You've been a faithful friend!